EXPLORE THE CAMPUS
We invite you to Step Into Bradfield, explore our campus and take in experiences unique to Bradfield pupils. Wander around the Commemoration Exhibitions to view the best pupil Art, Design and Photography work, walk through the recently refurbished common rooms in Faulkner's and take centre stage in the Greek Theatre as our recent Greek Play Alcestis comes to life around you.
Tap on any of the television screens throughout the tour and you'll be able to hear from the pupils themselves as they discuss what they have loved about their own Bradfield journeys. Viewable on desktop, tablet, mobile and even in Virtual Reality through any mobile phone based headset such as Google Cardboard and Samsung Gear VR.
Click on the image to start the tour.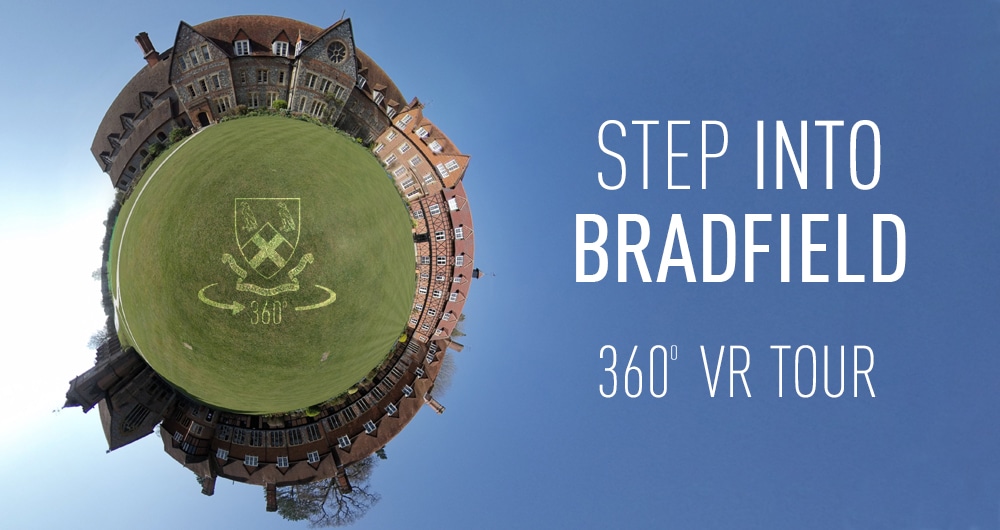 For the best experience: Make sure your audio is on. Click/tap once to enable tour audio and click/tap again to enter the tour. Navigate by clicking and dragging the screen on desktop or with a swipe on mobile and tablet. Click on floor arrows to navigate around the campus, tap on info icons to learn more about Bradfield and click on tv screens to hear from our pupils. To view in VR tap on the VR goggles icon in the bottom right of the mobile screen and follow the onscreen instructions to enable viewing method.