Dear reader,
Earlier this year we shared our aims for the next phase of Bradfield's development in our 2025 Strategy, the genesis of which is detailed in this Bradfieldian by Owen Adams, Chief Operating Officer. While the Strategy encompasses our people, the business, the environment and new technologies, education is at its heart and this Bradfieldian demonstrates how our teaching and learning culture is already delivering on some key objectives.
From artists portraying new emotions felt during the pandemic to designers rethinking the way household tools work, our innovative pupils have been stretched in their academic studies this year as they develop the life of the mind. Throughout this year our pupils have engaged in a Bradfield without borders, making a difference in their own communities. Whether it is scaling the height of Everest, running marathons, baking treats or collaborating on a charitable initiative, you can read about the admirable commitment of our Faulkner's community in this area.
During a recent tour for prospective pupils one of our Upper Sixth pupils reflected that she has grown in open-mindedness living with pupils from all over the world and developed her confidence through striving for change. Her words, featured within these pages, reflect Bradfield's diverse and inclusive community, which is enhanced by our bursary initiative, something OB Michael Bostelmann (A 61-66) advocates in his article explaining why he donates to the Bright Futures fund. Elsewhere in this edition, two more Old Bradfieldians, a teacher and a silversmith, discuss how their experiences at the College inspired them to pursue their passions, as they in turn hope to inspire the Bradfieldians of today to flourish both personally and professionally.
As we continue to live under the shadow of the pandemic, it remains uplifting to sense the underlying optimism of the pupil body. As they strive to develop their own talents, through the 2025 Strategy we demonstrate our ongoing commitment to making Bradfield an even better platform for them.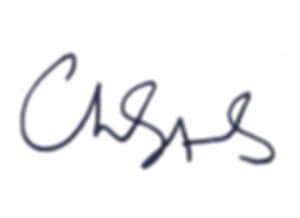 Dr Christopher Stevens, Headmaster