Dear reader,
As this edition of The Bradfieldian goes to press, we are preparing for the return of our pupils after the third national lockdown. They have experienced a mixture of face to face and remote education this year but have risen to the challenges and shown impressive resilience and adaptability. Happily, most of the achievements and events reported in this magazine occurred during a term in which pupils were on campus. The feature articles focus on the College's transformative approach to teaching and learning and the role it will play in the years to come.
Neil Burch, Deputy Head (Academic), discusses how the adoption of education technology has enabled our teachers not only to move their teaching online when required but also to offer blended learning. This gives pupils more autonomy over the pace of their learning and digital fluency of teacher and learner offers the opportunity for 'anytime, anywhere' learning for life.
Enabling Bradfieldians to develop an inclusive open-mindedness that values diversity and encouraging them to make a positive contribution to society are essential elements of our Education for Life. As our pupils enter the changing world of higher education and work, the International Baccalaureate provides a chance for them to differentiate themselves. Our new Director of the Diploma Programme outlines how the IB encourages our pupils to become global citizens and to look upwards and outwards.
Positive contributions to society are very evident in the wider Bradfield community. An interview in these pages with Orthopaedic Surgeon, Rob Pollock reveals the collaborative experiences at Bradfield which set him on the path to helping others through the NHS. Being a force for good is something of a mission statement for Misan Harriman, one of two OB photographers featured in this edition. He made history last year by becoming the first black male to take the cover photograph for British Vogue magazine. The focus of Misan's photography, and indeed his career, has been on showing empathy towards others. When he writes, 'all I do is lead people down this road where they will feel something' he captures a key concept of both of photography and of education.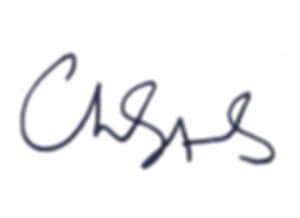 Dr Christopher Stevens, Headmaster