The College has a strong history of supporting charities and raising large amounts of money for the local community as well as for national and international causes.
In recent years, fundraising events have taken the form of colour run's, art exhibitions and music concerts as well as smaller boarding house events or projects undertaken by groups of pupils or individuals.
Charity and community service also forms an integral part of the Bradfield Diploma as well as the International Baccalaureate with pupils tasked with identifying specific charitable causes, setting up the means of fundraising and then carrying out the collecting themselves.
Charitable activities
Every year, we support the Send a Cow charity at our Lenten Lunch. The College's catering staff provide a frugal lunch of soup and bread, with the money saved from the usual meal time offerings going towards preventing poverty and hunger in Africa.
Every summer we hold our Jazz on a Summer's Evening event. 2019s concert raised £8,000 for Epilepsy Action.
We also take part in Macmillan Coffee Morning and our Harvest Festival donations go to the West Berkshire Food Bank. Numerous other events are held to support other charities including Casual Clothes days, Candy Canes and ongoing collections of stamps, textiles, milk bottle tops, and printer cartridges.
Below is just a selection of events and the money raised for a wide range of charities and causes during the 2018/19 academic year: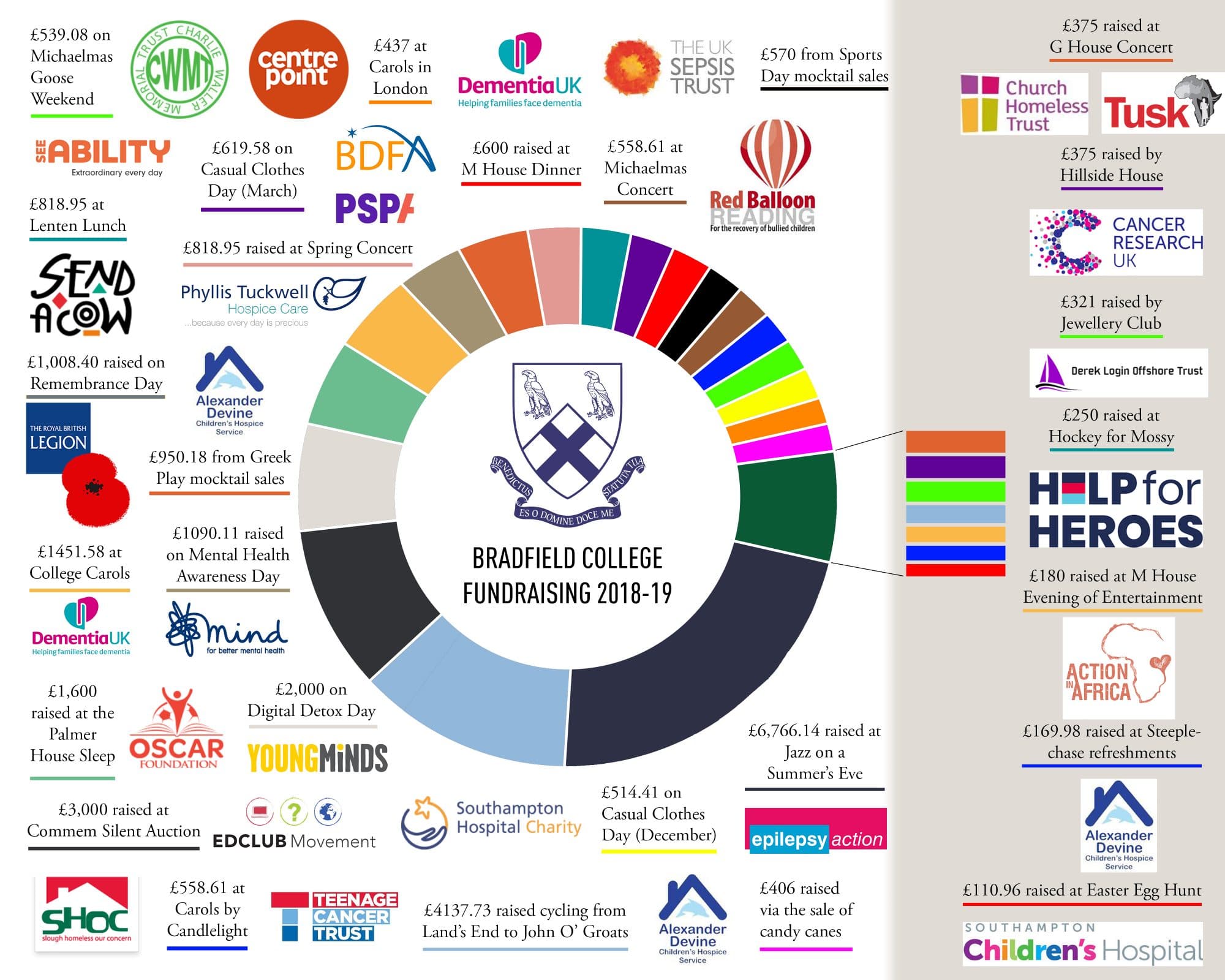 In 2018/19 we also donated:
531kg of food from our Harvest Festival to the West Berkshire Food Bank (the equivalent of 478 meals)
61 bags of textiles to the Air Ambulance
20 sleeping bags & assorted toiletries to Churches in Reading Drop in Centre
98 boxes to the Link to Hope Shoebox Appeal
Two bin liners worth of milk bottle tops to the Air Ambulance
One full A4 envelope of postage stamps to Multiple Sclerosis Society UK and Naomi House & Jacksplace children's hospice
One bin liner of bras to Against Breast Cancer
Outreach work
We run a number of outreach programmes that see local primary school children come to the College to make use of the outstanding facilities on offer. These include sports events such as netball, cross-country and cricket run by our staff and well supported by our pupils who act as referees, stewards and marshals.
The Exploring Science workshops at the Blackburn Science Centre invite children aged 8 to 11 to get involved in practical science experiments with our Sixth Formers on hand to support our teaching staff. More than 800 primary school children take part across these events.
Other activities see our pupils go out into the local community and make a difference. For example, over 60 pupils through the Voluntary Service Programme volunteer at the John Simonds Trust at Rushall Farm and Ufton Court Educational Trust.
The ABC to Read initiative trains pupils up as 'paired readers' who go into local primary schools to help children improve their reading proficiency through literacy games. The Apollo 5 Young Leaders programme run music workshops at partner schools culminating in the 'Big Sing' with all children joining our pupils and Apollo 5 in the College Chapel.
Some outreach programmes go further afield. One pupil involved in the Leadership Academy undertook a placement at The Edge Project in Bradford helping vulnerable young people while the EDCLUB involves pupils' skyping regularly with children in Kenya, enhancing their learning.
Charitable partnerships
The College is in partnership with Theale Green School, a local Academy School with whom we share resources through both curricular and co-curricular activities. We also support the Bradfield Club, which provides 200 young people in one of the most deprived parts of the country a space to get involved in a range of activities and learn new skills.
See our Charitable Partnerships page for more information.