CONTINUAL LOVE OF LEARNING: PIERS UNSWORTH-NEIL (D 08-13)
June 6, 2019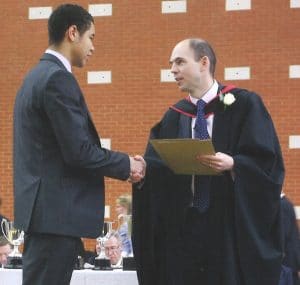 "Being able to explore the opportunities Bradfield had to offer: the high quality of teaching, the time I had to develop friendships and the chance to take advantage of the first-class sporting and recreational facilities, that was the true impact of the bursary I received."
Piers reflects on the aspects which came together to create a well-rounded experience for him during his years at the College.
"Everyone had their own interests but the underlying culture and ethos of Bradfield was genuinely positive and supportive making it an enjoyable place to be."
Piers was already a pupil at the College prior to receiving bursary support after he and his family decided Bradfield could be a good option based on its growing reputation and proximity to the family home.
I had applied for the Dr Gray Exhibition Award and when I visited the College for the tests and to take a tour it seemed like a great place to learn. Fundamentally, receiving the bursary later on meant that I was able to stay at the College, providing a layer of financial support that would not have been otherwise affordable.
The Dr Gray Exhibitioner's Leavers Yearbook comment says that 'nobody works harder than Piers, his work ethic is admired and respected across the College'. Evidently, this applied to studies both inside and outside of the classroom.
"My work ethic came from the position that the opportunity and support was there if you wanted to use it. I was enjoying what I was learning and that applied across the subjects that I'd chosen for GCSE and A Levels while on the co-curricular side, I enjoyed the variety as it helped keep me fresh for studying. I tried to put my energy into these wider co-curricular activities where possible and all of that helped develop wider skills such as teamwork, being competitive but demonstrating sportsmanship."
Piers studied Maths, Economics and Geography at A Level, a combination he hoped to utilise at university. He praises the College's help in discussing his best options as he began thinking about what to do next.
"In the end I went to the University of Manchester to study Business Management, with a specialism in Sustainability, which I thought would be interesting and put me in good stead for the future."
After university, Piers joined a two-year graduate scheme with a UK financial services provider. He has since rolled off the scheme into a full-time role and continues to learn and develop his skills.
"I have been studying for a professional qualification alongside my role, using similar tools and approaches I used at Bradfield. Additionally, on this graduate scheme I traveled across the country working and living in a few different cities so having the boarding experience and going through university made that transition easier."
Looking back on how his education at Bradfield has played a part in his career to date Piers is full of praise.
"My education helped shape the foundations of how I apply myself in my work. It taught me to work both hard and smart as well as the value focusing time on the important things."
Having developed a robust approach to learning, understanding his strengths over key milestones like GCSEs and A Levels and being open about areas in which he could improve, Piers states that his education for life helped him identify areas which he needed to work on to close those gaps.
"These are the same types of challenges, decisions and considerations I had at university and now at work, just in different contexts. Bradfield also provided an environment for me to continue to grow in self-confidence and so meeting new people, developing positive relationships and wider soft skills were all something I developed there.
"The College was, and still is, a great place to be and a really good environment to learn and make friends. In my home life, we moved around a bit over the five years I was there, but Bradfield was a great base to grow at a key point in my early education.
For me the best thing is the people. Everyone was friendly, willing to learn and, most importantly, supportive. Those factors made it a great place to be educated.