Festival kicks off with Jazz
June 20, 2018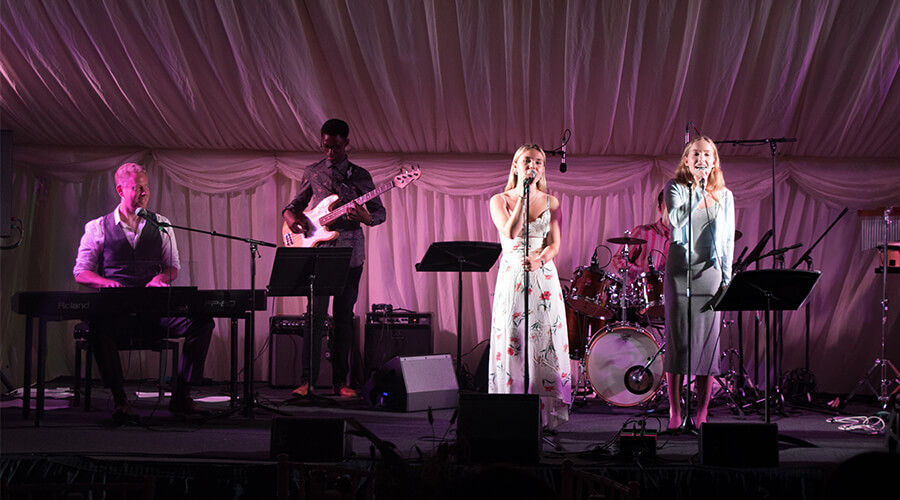 This year's Bradfield Festival kicked off with a fixture of the College's Summer Term, Jazz on a Summer's Evening.
The event, now into its eleventh consecutive summer, showcases some of the best of Bradfield music, featuring performances from our Jazz Band and a number of vocalists across the age groups from Faulkner's all the way up to the Upper Sixth, who are often performing at the College for the final time.
They were joined by a number of Old Bradfieldians, many of whom were returning to the stage for the first time since leaving the College. The 500-strong audience were treated to a mix of Frank Sinatra and Cole Porter to Bob Dylan and Katy Perry.
All proceeds from the event, including from the accompanying silent auction raised money for local charity, Riverside Counselling Service in Henley. Among the prizes at this year's event were a bottle of Krug 2004 vintage, a country house retreat and tickets to a film premiere.
Since 1989, the Riverside Counselling Service have provided affordable counselling and psychotherapy to adults and young people from the age of 12 who live across South Oxfordshire. The event was raising money specifically for "The Space", a safe place for young people to talk about a range of difficulties from relationships to bullying to self-harm and eating disorders.
Thank you to everyone who supported event for making it a thoroughly enjoyable evening and for raising money for a worthy cause.