Celebrating an historic charitable partnership and educating our young people on the Black Lives Matter movement, we were thrilled to welcome Daniel Campbell, Manager of The Bradfield Club in Peckham which was founded by Bradfield staff and pupils over 100 years ago, for a special assembly.
Daniel started volunteering at the youth and community centre over ten years ago and became the Club's manager a few years after joining. He spoke with pupils about the origins of Black Lives Matter, when Alicia Garza used it on Facebook in 2013 commenting on the acquittal of George Zimmerman for the killing of Trayvon Martin, an event which led to the global movement we see today.
Talking about how the movement has grown in the UK, Daniel focussed on the tragic losses of Stephen Lawrence in 1993 and Demetre Fraser from Peckham in 2011 as well as the events which sparked the London Riots a decade ago, explaining clearly the feelings of the Peckham community.
During the 2019 protests, he discussed how celebrities became involved, with Stormzy using his platform to encourage peaceful protests. Whole communities came together to protest and challenge the negative behaviour of troublemakers, demonstrating how we can collaborate to protect one another despite the colour of our skin.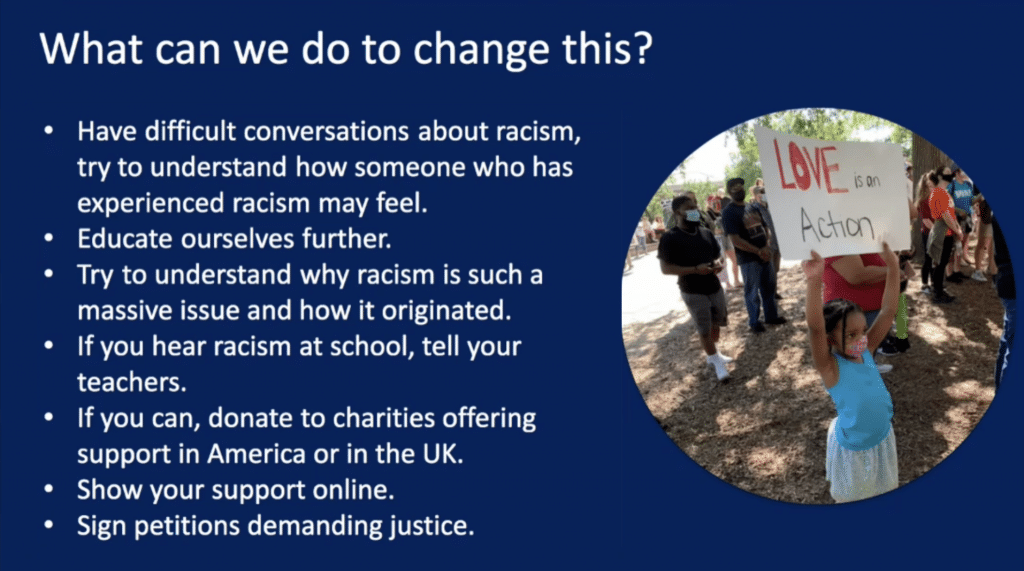 Daniel explained what we all need to do as individuals and as part of our communities; he encouraged pupils to educate themselves, have difficult conversations and to try to understand and call out racism to support the movement. He also shared how important the Bradfield Club is to the community of Peckham highlighting two particular stories. Dante was left homeless during his GCSEs and moved into foster care with the Club able to offer support to him during his darkest moments. He also spoke about Lenaye, who recorded her first music using the facilities at the Club and is now a singer with a recording contract.
The Bradfield Club offers hope for the Peckham community. It has controlled access to the premises which provides protection for everyone. It is a safe space, particularly for children, where they can relax and be free of the fear many feel in the community in general. Members of the Club benefit from theatre trips, guest speakers, arts and crafts, photography courses, mental health discussions and boxing lessons alongside week-long residential trips to the Isle of Wight and the Lake District. Lambeth College also support the Club locally, parents can attend sessions and there is a free creche available.
At the end of the assembly, Daniel shared some Key Stage 3 and 4 reading lists, compiled by his wife, for pupils to consider learning more about racial issues. We would like to thank Daniel for sharing his time and giving a thought-provoking and insightful presentation.