The biennial Bradfield Festival concludes the academic year with a celebration of creativity encompassing musical, literary, film, artistic and dramatic performances.
Pupil performances are at its heart but distinguished alumni and visiting professionals add to an eclectic mix of the very best of the arts.
Below you will find the line-up for 2018's event.
Bradfield Festival 2018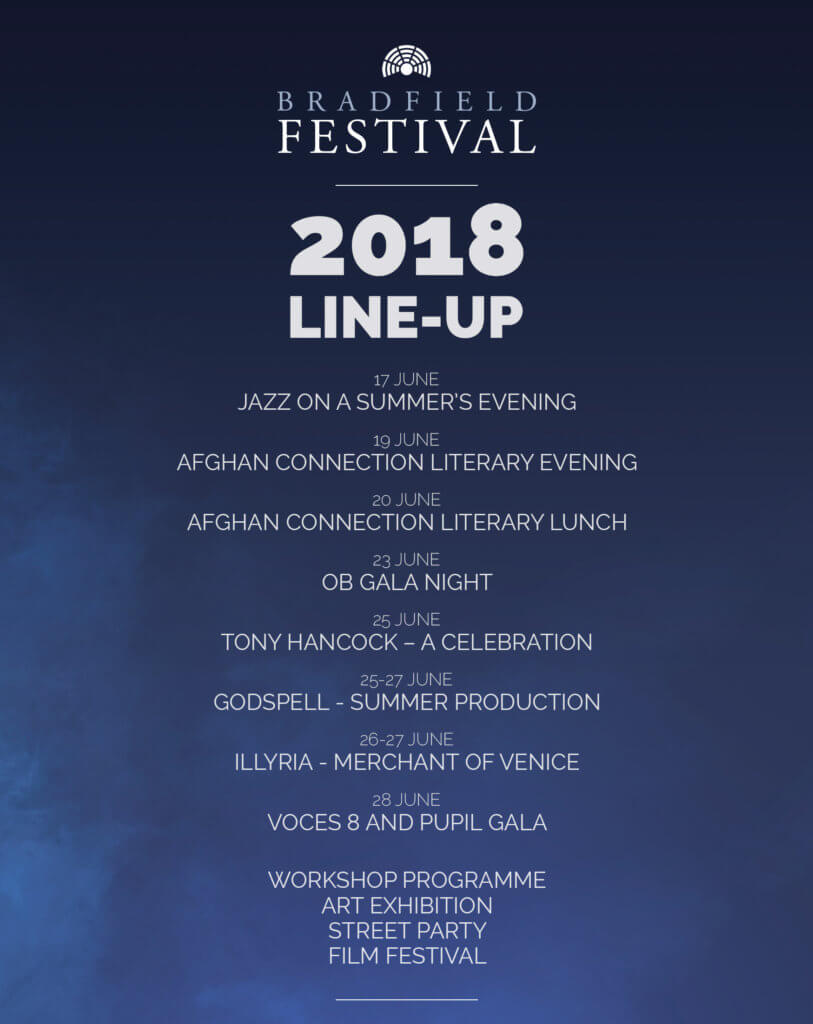 OB GALA NIGHT

The first in a series of Festival events in the iconic Greek Theatre, the Gala Night will see the return of multiple talented Old Bradfielians alongside some of Bradfield's current pupils, who will sing, perform and entertain in a celebratory evening of creativity.
Guests and performers will include internationally renowned operatic tenor Mark Milhofer, Acting and Vocal talent Eve Niker, Star Wars and The Night Manager Actor Alastair Petrie, Classical Singer Ella Bodeker, 5X World Tap Dance Champion Kia Lawrance and many more.
TONY HANCOCK – A CELEBRATION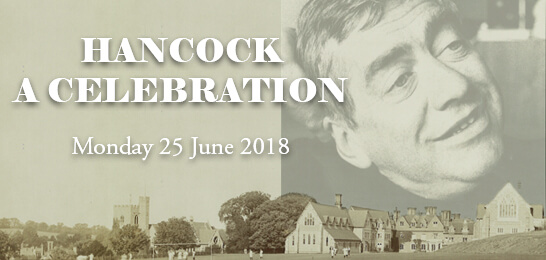 A unique opportunity on the fiftieth anniversary of his passing to celebrate the life and work of one of Britain's best loved and iconic comic performers, Tony Hancock, at his old school, Bradfield College.
The day will include expert panel discussions, screenings of rare archive material, a performance of James Hurn's award winning Hancock stage production and talks by a range of special guests who knew and worked with Tony.
The day will culminate in the unveiling of a permanent memorial to Tony at the College.
This is a non-profit making event and any profit raised will be donated to The Samaritans (reg charity no 219432). This event is a collaboration between Bradfield College and The Tony Hancock Appreciation Society.
GODSPELL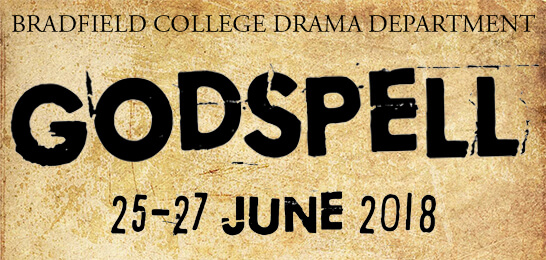 Bradfield's iconic Greek Theatre plays host to a dynamic reimagining of Stephen Schwartz's classic 1971 Broadway smash musical Godspell.
Largely inspired by the Gospel of Matthew, Godspell is an uplifting tale of friendship and faith presented as a series of parables interspersed with a variety of modern music.
Starting life as a College project performed by students at Carnegie Mellon University, the production comes full circle as Bradfield's pupils put a contemporary twist on the classic tale.
ILLYRIA – THE MERCHANT OF VENICE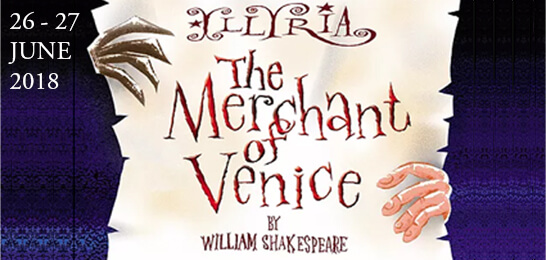 International award-winning Theatre Company Illyria promise a production to keep you on the edge of your seat!
Winner of four international "Best Performance" awards and possessor of numerous "five-star" and "Critics' Choice" reviews for the lively clarity of its approach to Shakespeare's plays, Illyria produce high quality and refreshing original adaptations of English classics and Gilbert & Sullivan performances.
Illyria has given more performances to more people across a wider area than any other open air touring Theatre Company and will be bringing its gripping, funny, romantic and thought-provoking adaptation of Shakespeare's great courtroom drama The Merchant of Venice to Bradfield this summer.
VOCES8 AND PUPIL GALA
British vocal ensemble VOCES8 inspires people through music and sharing the joy of singing. Touring extensively throughout Europe, North America and Asia, the group performs repertoire from Renaissance polyphony to contemporary commissions and arrangements; versatility and a celebration of diverse musical expression is central to the ensemble's performance ethos.
Having performed at venues such as the Royal Festival Hall, Royal Albert Hall, Bridgewater Hall Manchester, Elbphilharmonie Hamburg, Cité de la Musique Paris, Vienna Konzerthaus, Tokyo Opera City and Mariinsky Theatre Concert Hall, VOCES8 now return to Bradfield College's Greek Theatre, three years on from their appearance at the Theatre Re-opening Gala.
Bradfield College's talented musicians will take to the stage before welcoming the internationally renowned ensemble, who will perform a number of songs from their repertoire on the final night of the Festival.
AFGHAN CONNECTION – LITERARY EVENTS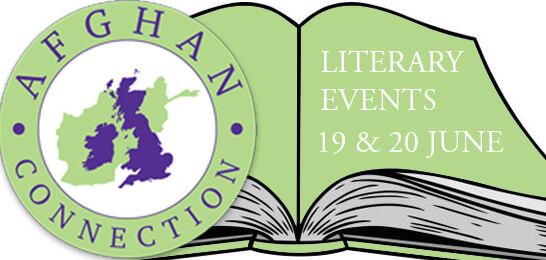 Afghan Connection has been operating in Afghanistan since 2002. Its aim is to bring hope and opportunity to young people in Afghanistan through education and sports projects.
AC supports education in rural areas, where girls in particular miss out, by funding initiatives designed to maximise the opportunity to access and complete a quality education. The Charity has funded 46 school constructions serving more than 75,000 children.
The charity will be hosting two literary events at Bradfield College this summer. For more information on guests, schedules and tickets please visit the Afghan Connection websitewhere details will be made available in due course.
JAZZ ON A SUMMER'S EVENING
Bradfield's annual jazz music showcase event will take place in the Marquee on Major. The best of the College's musically talented pupils, staff and alumni will take to the stage for a relaxed evening of entertainment.