Work Hard, Get Involved, Be Kind. The Faulkner's motto may be a slight simplification of the College's aims and values and of the 'Education for Life' philosophy but everything about the boarding house experience in the first year is tailored to these values.
Faulkner's is set up to provide for the year group as a whole. They start the year together and have a strong sense of Bradfield identity throughout their time here. They do everything as a year group, from their classroom and boarding house experience to sports and social events.
Many refer to our young people as the 'snowflake generation' and that is something with which we simply do not agree.
It does not matter which Biology group you are in, which Music set you are in, whether you play football or fives; pupils are mixing with people that they would never have the opportunity to mix with in a traditional vertical boarding house. That is the beauty of Faulkner's. It provides both a 'soft landing' to a boarding school environment and a springboard into life at Bradfield.
The challenge of transition to senior school cannot be underestimated and pupils can go through some tough times when they start in a new place, particularly if they have not boarded before. In Faulkner's, it is the shared experience with 160 other pupils that gets them through difficult times and remains with them during their time at Bradfield.
Developing meaningful and lasting relationships
Faulkner's provides an opportunity for its pupils to develop meaningful and lasting relationships, opening up the idea of friendship in an age where many have best friends in the virtual world and in which self-esteem is generated by peers. The chance to develop such relationships amongst a large number of people means that friendships can be wider, stronger and internationally minded.
The dedicated care of the house staff and the opportunities this arrangement provides for younger boarders to mix enables boarders to be integrated into the life of the college and helps them to make lasting friendships.

2015 ISI Inspection Report
If a pupil is settled and happy in Faulkner's and equipped with the guidelines of how the College works, then time and resources spent investing in their wellbeing pays dividends for the rest of their Bradfield experience. It gives them identity and we are fortunate to have such a fantastic team that allows us to be very personal in our approach.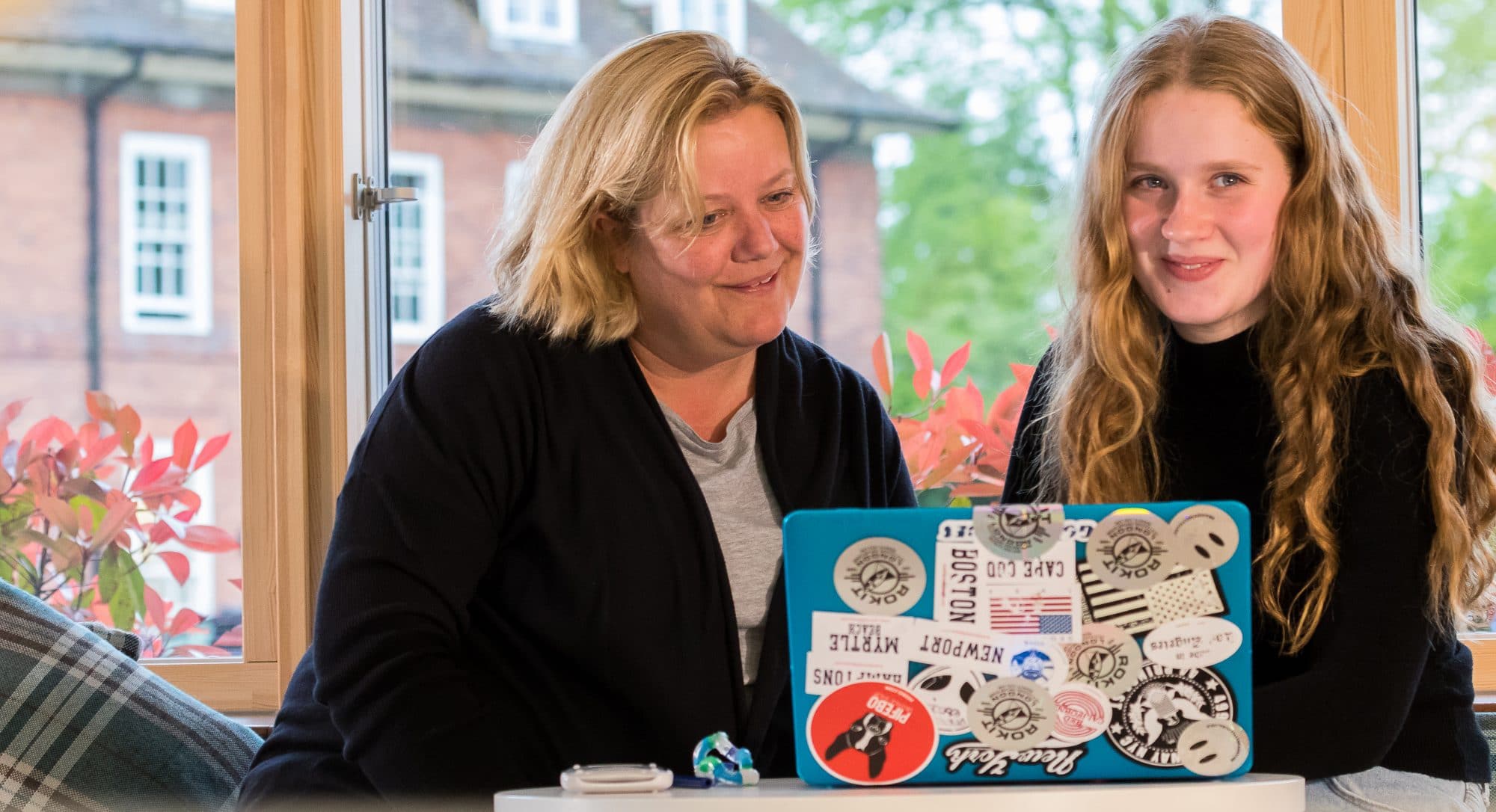 It certainly helps to make our Senior Houses more open-minded. That is not to say we do not have strong Inter-House competition, but you can have a pupil in the Upper Sixth who will play hockey or football alongside another pupil with whom they might have shared a room in Faulkner's, so they have already struck up a relationship.
Often we find the Sixth Formers who become Faulkner's Prefects are keen to share their first year experience as they remember it with great fondness. That is hugely beneficial for the new pupils when it comes to them forming their own bonds.
Providing social and collaborative spaces
Over the years, we have been lucky enough to see many developments to the House. The social spaces at the entrance have gone through a transformation so that they cater for a truly holistic approach when it comes to our pupils' wellbeing. It is a co-educational House and the reconfiguration of the social spaces and common rooms has allowed us to recognise the differences that we need to embrace.
Faulkner's nurtures an atmosphere of energy, enthusiasm and care.

Faulkner's parent
That mentality really dictated the way that these new social spaces were constructed. The girls' common room is the best example of it so far; there are many delightful spaces including a long table to seat twenty in the kitchen area as well as more private areas such as the sofas by the fireplace or the small computer area which offer a quieter working space.
Similarly, there are multiple collaborative spaces in the shared common room. Table football and pool tables allow pupils to engage in friendly competition, while the cushioned benches and long table in the middle of the room provide a place to talk with friends and work on group projects.
Technology has undoubtedly changed the way young people work and the coffee shop/multitasking culture has become their modus operandi. Our working spaces in the boarding house now cater for this work ethic.
Many refer to our young people as the 'snowflake generation' and that is something with which we simply do not agree. We have seen some incredible innovation and creativity from our pupils and we cannot wait to see how our latest intake grows through the next five years at Bradfield.
Co-educational Independent School of the Year