The long-term aim for our Sixth Form is to develop a shared identity and vision that, whilst focussed on our 'education for life' philosophy, places a greater focus on the stage the pupils are at in their lives.
We aim to give our pupils, as young adults, levels of responsibility and independence that will prepare them for later life. Our Sixth Formers live incredibly busy lives across the academic, co-curricular and pastoral aspects of College life with the aim being to do as well as they can in all whilst supporting others to achieve the same.
Bradfield has given me a level of responsibility that has pushed me hard and, at times, put me in situations that are well outside my comfort zone but, in dealing with these, I have learned huge amounts and know it will stand me in good stead for life after Bradfield.

Current Sixth Former
To develop the maturity and emotional intelligence to succeed in their A Levels or the International Baccalaureate, to represent the school in sport, drama or music and, in a peer mentoring or prefect role, being responsible for the wellbeing of others are life skills that will not only serve them well at Bradfield but, crucially, in their years beyond school.
We understand and accept that inherent in this approach is the likelihood that most pupils will fail in one thing or another along the way, but that will help them develop a core life skill – resilience. The fact we are there to support them ensures that they come back stronger; whether this is Charlie being pushed out of her comfort zone to overcome her fear of public speaking; Hamish practising his CCF drills to parade in front of the Menin Gate on the hundredth anniversary of Armistice Day; or Antonia and Tristan battling across the tundra on their ski expedition to Norway.
Our Sixth Formers are outward-looking, compassionate young people in touch with current affairs and global issues and want to communicate this to their peers to make a difference inside and outside of the College community. They want to: promote gender quality through NESKA, Bradfield's feminist society; save the environment with Meat-Free Mondays; raise wellbeing issues via Mental Health Awareness Day as part of their IB CAS Project; and help those less fortunate than themselves through football with OSCAR Foundation or skype children in Kenya to improve their English language skills in EDCLUB.
Bradfield is busy! One of the hard things in school is to balance all the things you do. I have needed help at times to understand I cannot do everything all of the time but when you do get the balance right the rewards are incredible.

Current Sixth Former
As pupils move in to the Sixth Form we ask that they be aware that younger pupils will look to them to lead by example. Many step forward to become Peer Mentors or Digital Leaders and relish the opportunity to help their younger peers negotiate those early boarding years by sharing their experiences and pointing out the potential pitfalls of social media.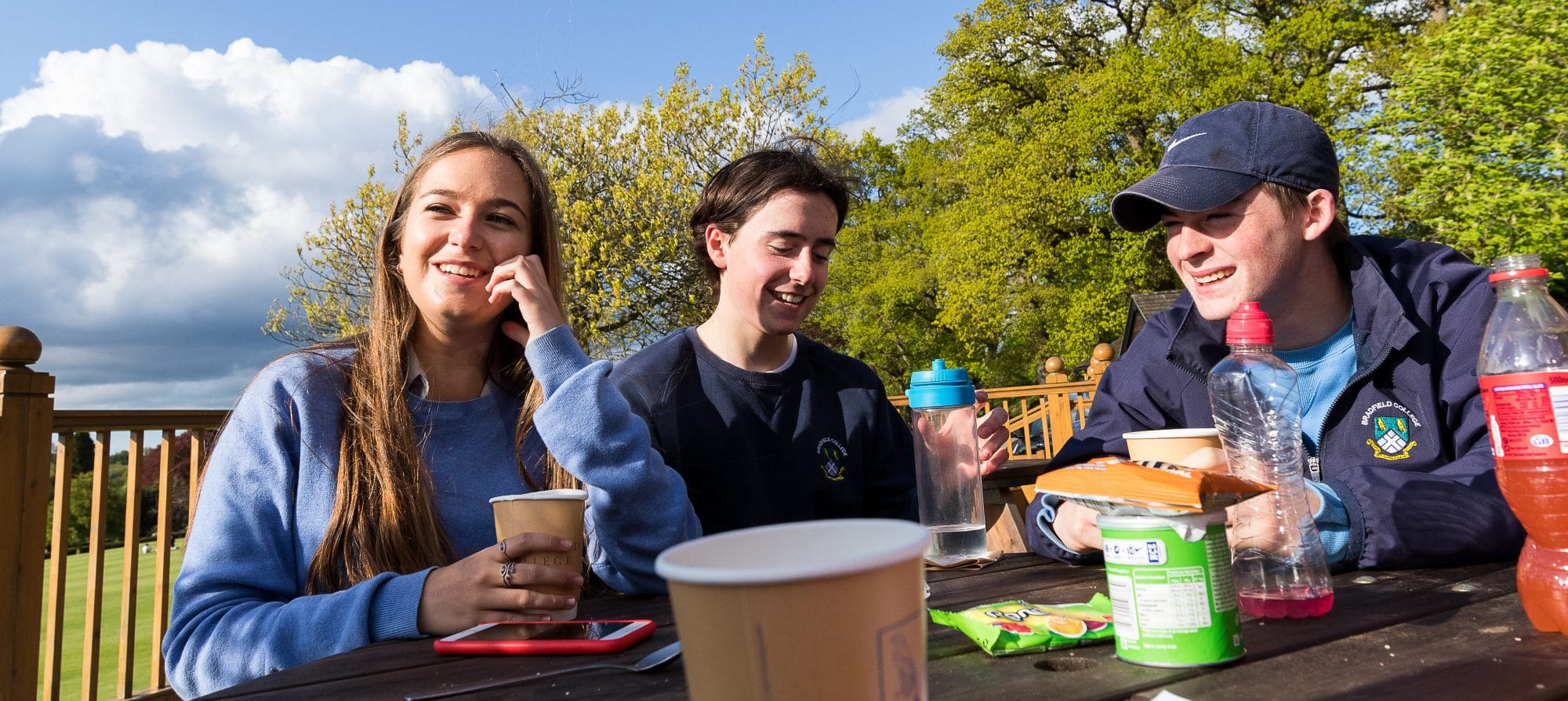 Although we look to them to lead and take on as much responsibility as they can, we also acknowledge that this is a challenging time. They are making choices that will define their careers and the rest of their lives. Therefore, it is important for them to have the time and the space to switch off and enjoy each other's company. Major Pavilion, or 'Dells', is the perfect pupil 'hangout' where they can get together to grab a bite to eat, watch summer sports from the terrace or cosy up with a hot drink on Open Mic Night in the winter.
With this open-minded and forward thinking approach, we are confident that we are preparing our pupils, as well as possible, for life beyond Bradfield.
Co-educational Independent School of the Year