Delivering utility saving projects across five key areas has saved the carbon equivalent of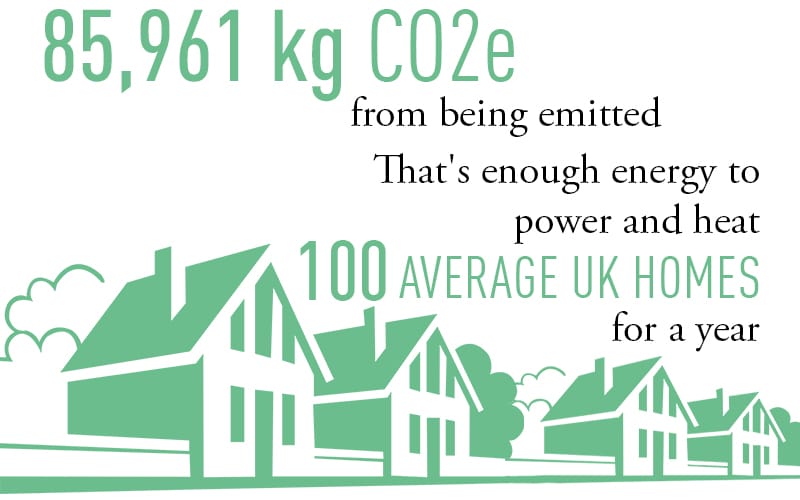 LED LIGHTING
LED Lighting
Armstrong House (J), House-on-the-Hill (G), Stevens House (K), The Close (H) and House-on-the-Hill (D) among several areas converted from older style compact fluorescent lamps to new highly efficient LED lighting. Alongside the new lighting, boarding houses are reducing usage of electrical energy and have seen improvements to the internal appearance of the buildings;
Should save around 65,000 kWh/year or £8,500/year in electricity costs. Older style light fittings are far less efficient and degrade quicker than modern LEDs as lots of the energy they use are emitted as waste heat.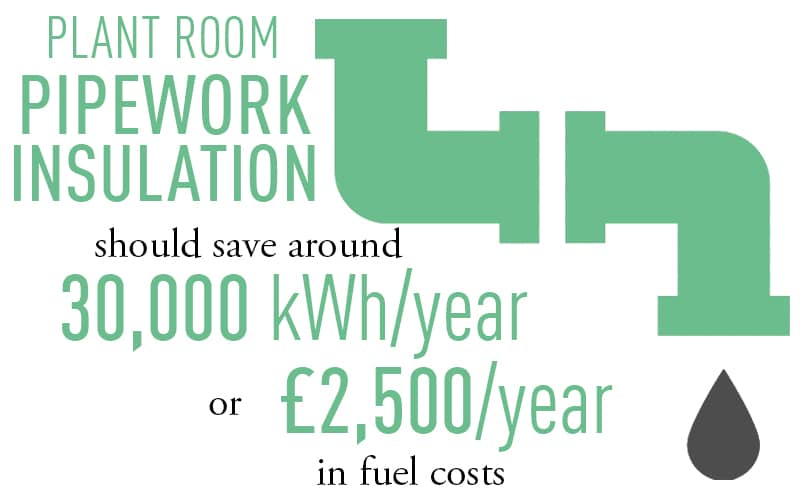 PLANT ROOM PIPEWORK INSULATION
Plant Room pipework insulation
High efficiency pipework insulation installed to hot water and heating pipes in various plant rooms across site including Army House (C), Stone House (E) and Design Centre;
This has reducing consumption of oil and LPG fuel to run the Plant Rooms;
The new insulation stops waste heat radiating from the pipes into un-heated spaces, causing the heating equipment to work harder to compensate and provide the right amount of heat to the buildings, radiators, taps and showers;
Should save 30,000 kWh/year or £2,500/year in fuel costs.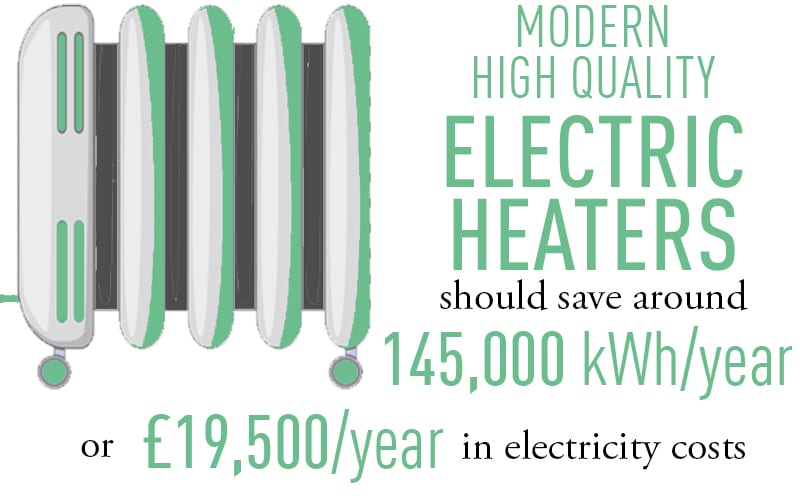 ELECTRIC HEATER REPLACEMET
Electric heater replacement
Replacing old inefficient and high energy consumption electric heaters in boarding house bedrooms in Faulkners, Stevens House (K) and Armstrong House (J). Alongside the new heaters, boarding houses are reducing usage of electrical energy and have seen improvements to the internal appearance of the buildings;
Modern high quality electric heaters have in-built controls that reduce the amount of electricity they consume whilst heating the space to the desired temperature more effectively;
Should save 145,000 kWh/year or £19,500/year in electricity costs.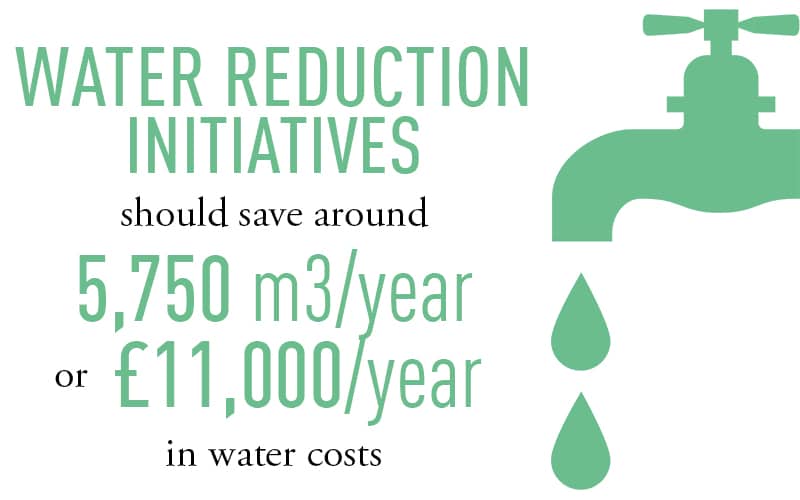 WATER WASTAGE AUDIT
Water wastage audit
Independent audit of water consumption across site completed to determine what opportunities exist to reduce our water usage and wastage;
Survey identified multiple areas where we could make simple improvements to dramatically reduce water consumption such as repairing large unidentified underground water leaks and switching urinals to passive infra-red controlled;
Should save 5,750 m3/year or £11,000/year in water costs.
THERMOSTATIC RADIATOR VALVES (TRVs)
Thermostatic radiator valves (TRVs)
TRVs allow users to have individual control of each zone or room within a building, preventing areas from over-heating and wasting energy whilst at the same time giving users the ability to easily control the local heating where they reside;
Should save 110,000 kWh/year or £5,500/year in fuel costs.
CAPITAL PROJECTS
Capital Projects
Bloods/Flat A
Added insulation to the new roof;
Installed LED lighting and PIR detectors in the refurbished areas;
Replaced electric heaters in the IT offices & WC's with radiators onto the existing heating system;
Added double glazing to the refurbished areas in Bloods;
Installed bat access points in the new roof;
Installed swift (Bird) boxes on the Science Centre as a biodiversity enhancement in the area.
Music Hall
Installed loft insulation;
Replace windows with double glazed windows and different openings to encourage natural cross ventilation;
Re-instated a damper in the loft to aid natural ventilation;
Installed LED lighting;
Installed bat access points in the soffits.
AWP Car Park
Six EV Charging Points installed.
PUPIL-LED INITIATIVES
Pupil-led initiatives
The pupils remain actively engaged with this important global topic. They have launched a Sustainability Week, presented in assemblies to raise awareness and change culture/behaviour as well as entering UN and Earth Prize Competitions.
In addition they are running campaigns in the following areas:
Energy
Ongoing campaigns to reduce energy use in Houses which includes advocating to turn lights off, reduce shower time and turn heaters down (instead of opening windows).
Catering
Ongoing campaign to reduce plate-waste;
Pupils are working with the caterers to provide five meat-free meal days every month.
Environment
Second tranche of trees planted as part of the leavers' wood project. Trees recognising Class of 2020 and 2021 mean 25 trees have now been planted;
Outdoor classroom planned to feature within the wood;
Increasing biodiversity with additional maintenance of the Nature Reserve and introduction of wild verges.
 Reuse/recycle
New bins in Houses and pupil-led campaign to ensure recycling bins are correctly used;
The College has now stopped using paper cups;
Paper-use reduced significantly due to move to laptops and relevant software in digital classroom e.g. OneNote;
Reduce water wastage by reducing shower length and turning taps off when not using them;
The Phoenix Project: re-used/recycled old clothes are repurposed and sold on for new use;
Other projects include IB pupils creating benches out of recycled material, project to recycle plastic bags and create plates out of them, use mist instead of liquid water to water plants.