Making the decision to move schools at Sixth Form is an exciting and thought provoking decision. The admissions process is the same for both UK and international applicants.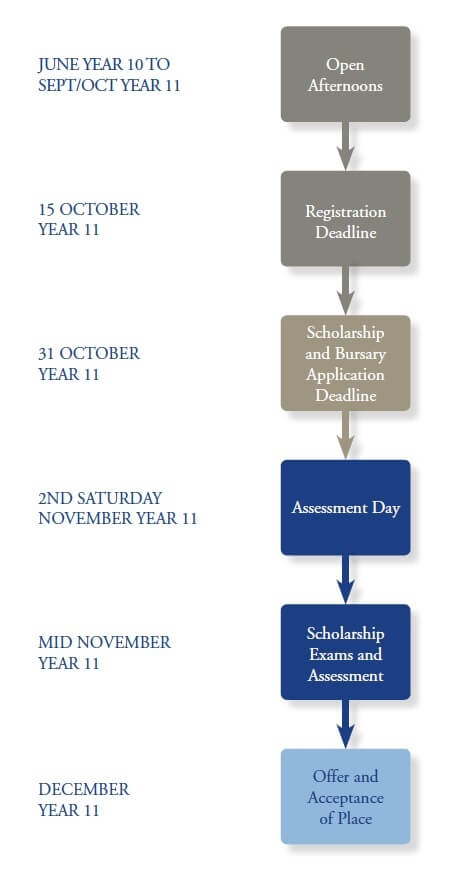 STAGE 1 – JOIN US FOR A VIRTUAL SIXTH FORM AFTERNOON 
The Virtual events begin with introductory talks by the Headmaster and the Director of Teaching and Learning, and a presentation by one of our Sixth Form pupils. You will then be invited to a Q&A session, chaired by the Head of Sixth Form. In the Autumn there will be some physical Open afternoons when candidates and their parents can visit the College in person (Covid Regulations permitting).
Parents should contact the Admissions Team to book a visit.
Sixth Form entry requirements
The following are required for entry into the Sixth Form:
A Headmaster's or Headmistress' reference from the pupil's current school
Attainment of a satisfactory standard at the Assessment Day and Scholarship Examinations or Exhibition assessments, where appropriate
Six (I)GCSE passes at Grade B (6) or above, with a minimum of Grade C (5) in English Language and Mathematics
All pupils, including those from overseas, will need to be able to show competence in both written and spoken English appropriate to their year of entry.
ADDITIONAL POINTS TO CONSIDER
We welcome pupils with an Educational Psychologist's Report providing our Support and Study Skills Department can enable them to access the full curriculum and pupils may be invited for an assessment with the Department.
We also welcome pupils with physical disabilities. Parents must inform the College of their child's medical, physical or educational needs prior to accepting a place at Bradfield College.
Please contact the Admissions Office for more details.
STAGE 2 – REGISTRATION AND APPLICATION (15 OCTOBER DEADLINE – YEAR 11)
If you decide to proceed with an application after your initial tour, you will need to complete our Registration Form, Sixth Form Application and Reference Request Form and return these to our Admissions office. The application deadline is 15 October in Year 11.
Prior to the Assessment Day, we will request a detailed reference from your current school.
SCHOLARSHIPS AND BURSARIES
Please let us know if you would like to enter your child for a particular scholarship or apply for a bursary.
Scholarship and Bursary application deadline is 31 October in Year 11
Scholarship candidates are invited to return to the College for the relevant assessments in the week following the Assessment Day.
STAGE 3 – SIXTH FORM ASSESSMENT
The main Assessment day will be at Bradfield on the second Saturday in November. For those candidates who are unable to attend in person we will be running remote exam sessions in October and early November. Candidates take exams in English and Mathematics.
Successful candidates will then be invited for an online formal interview with two members of staff – one Pastoral and one Academic.
STAGE 4 – OFFER OF A PLACE
Following Stage 3, we will consider whether to make an offer. This is done in consultation with the Admissions interviewers, the relevant Housemaster(s) or Housemistress(es), and takes into consideration the reference from the current school.
Bradfield College is in the fortunate position of receiving many more Sixth Form applications each year than we have places available. Accordingly, admissions decisions take into account a variety of factors. Whilst we are confident that prospective pupils will thrive academically at Bradfield, we also consider what wider contribution prospective pupils will make to the Bradfield community. We are looking for young people who will flourish and develop individually, but we are also looking for those whose presence in the College will have a positive impact on the experience of others at Bradfield.
Please note that for candidates who are taking GCSEs at the end of Year 11 our offers are conditional on attaining a minimum of six (I) GCSE passes at Grade 6 or above, with a minimum of Grade 5 in English Language and Mathematics. Candidates who are at MYP schools should attain a minimum of Grade 5.
Prospective pupils to whom we make an offer will generally be offered a College place rather than in a specific House – any preference will be noted, and we will do our best, space allowing, to fulfil this request.
Key dates for 2023 Sixth Form entry
15 October 2022
Deadline for receipt of Application Forms
31 October 2022
Bursary Application deadline
Saturday 12 or Sunday 13 November 2022
Sixth Form Examinations
Monday 14 - Thursday 17 November 2022
Scholarship Assessment Days
December 2022
Results announced
OPTIONAL APPOINTMENT WITH THE HEADMASTER
Parents are most welcome to book an individual appointment with the Headmaster, Dr. Christopher Stevens, after they have visited the College and registered their child. This is entirely optional and is not part of the formal admissions process.
If you have any queries about the admissions process, please do not hesitate to contact one of our Admissions team on 0118 964 4516.