We understand that choosing a school for your child is time-consuming and sometimes stressful so we have tried to make the process here at Bradfield College as simple, informative and enjoyable as possible. The admissions process is the same for both UK and international applicants.
Families are welcome to visit as many times as they wish but we recommend you follow the following route: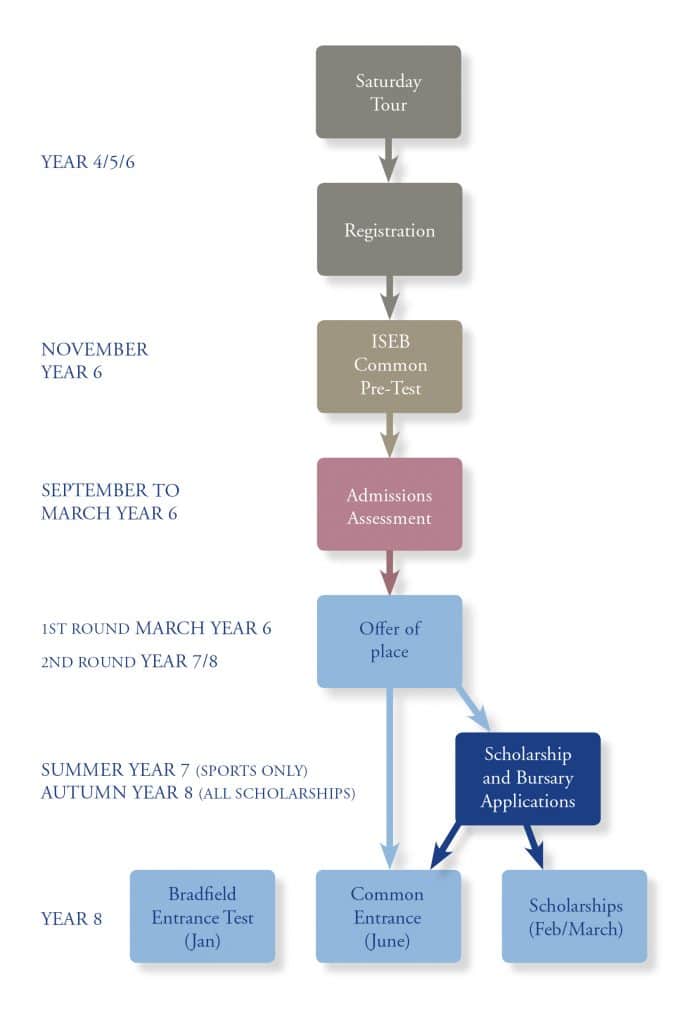 STAGE 1 – JOIN US FOR AN INTRODUCTORY SATURDAY MORNING TOUR
Prospective parents are welcome to join us for a Saturday Morning Tour. These take place most Saturdays in term time and are an opportunity to see the College on a typical school day.
Places are limited so that everyone can have an individual tour with a pupil before joining the Headmaster for lunch. Parents should contact the Admissions Team to book a visit.
Entry Requirements
The following are required for entry to the College at Year 9:
Success in the Common Academic Scholarship, the Bradfield College Scholarship, Common Entrance or Bradfield Entrance Examinations. We also accept the Prep School Baccalaureate.
A Headmaster's or Headmistress' reference from the pupil's current school
ADDITIONAL POINTS TO CONSIDER
We welcome pupils with an Educational Psychologist's Report providing our Support and Study Skills Department can enable them to access the full curriculum and pupils may be invited for an assessment with the Department.
We also welcome pupils with physical disabilities. Parents must inform the College of their child's medical, physical or educational needs prior to accepting a place at Bradfield College.
Please contact the Admissions Office for more details.
STAGE 2 – REGISTRATION BY 1 FEBRUARY OF YEAR 6 (to be included in first round of offers)
If you decide to proceed with an application after your initial tour, you will need to complete our Provisional Entry Form and return this to our Admissions office.
STAGE 3 – ISEB COMMON PRE-TEST
All candidates will be asked to take the ISEB (Independent Schools' Examination Board) Common Pre-Test in their Prep School between November and March of Year 6. Pupils who are not at a Prep School will be invited to take the test at Bradfield.
STAGE 4 – ADMISSIONS ASSESSMENT
This normally takes place on set afternoons in the Autumn and Lent Terms of Year 6, although later applications will, of course, be considered. Prior to the assessment we will request a detailed reference from the Head of your child's current school.
Admissions Interview – (20-30 minutes). This aims to understand how well your child will fit into Bradfield and what she or he will be able to contribute to the academic life of the College. Pupils are asked to bring a piece of recent academic work of their choice with them to the interview, which will act as a starting point for discussion. We will also talk to your child about their other interests and skills.
Housemistress or Housemaster Interview – (20-30 minutes). This interview is designed to establish how well your child is suited to College life.
Candidates will participate in a series of team problem solving exercises (60 minutes). These challenges, which will be similar to those found in the TV show 'The Crystal Maze', will allow us to assess our applicants more broadly whilst providing a fun and engaging environment. These challenges will ensure that we gain further in sight as to whether applicants are likely to respond positively to Bradfield's focus on the development of the attributes encompassed in our vision of an 'Education for Life'. Amongst the characteristics which we will be considering through the group activities are interpersonal skills, resilience, innovation, and reflection.
STAGE 5 – OFFER OF A PLACE – MARCH YEAR 6 AND YEAR 7/8 FOR LATE APPLICANTS
Following Stages 1-4 we will consider whether we can make your child an offer. This is done in consultation with the Admissions interviewer and with the relevant Housemaster or Housemistress, and also takes into consideration the reference from your child's current school, and their performance in the Common Pre-Test.
SCHOLARSHIPS AND BURSARIES
Year 7 – please let us know if you would like to enter your child for a particular scholarship (the deadline for Sports Scholarship applications is May of Year 7), or to apply for a bursary.
Year 8 – Scholarship application deadline is January of Year 8. Bursary Deadline is 31 October of Year 8.
STAGE 6 – ENTRANCE TESTS (YEAR 8)
All candidates take one of the following tests:
Bradfield Entrance Tests – January of Year 8 for pupils coming from overseas, or who are not at a Prep School
Common Academic Scholarship – February of Year 8
Common Entrance/Prep School Baccalaureate – June of Year 8.
OPTIONAL APPOINTMENT WITH THE HEADMASTER
At any point in the whole admissions process (from before a Saturday visit to after an offer has been made) parents are most welcome to book an individual appointment with the Headmaster, Dr. Christopher Stevens. This is entirely optional and is not part of the formal admissions process.
If you have any queries about the admissions process, please do not hesitate to contact one of our Admissions team on 0118 964 4516.