The Show must go on! The Gala opening of the Greek Theatre
June 11, 2014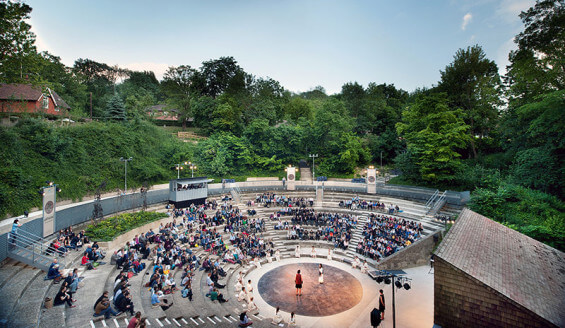 The show must go on . . . whatever the weather. And so it did for the re-opening of the iconic Greek Theatre.
A star-studded variety performance hosted by former pupils Mark Nicholas (G 71-76), Claudia Harrison (I 92-94) and Jonny Saunders (F 88-93) celebrated the theatre's £1.2m face-lift.
An audience that included Lord Owen (A 52-56) and Richard Adams (H 33-38) braved the cold to enjoy gala performances by a mixture of current and past pupils, including Downton Abbey's Andrew Alexander (H 95-00), jazz guitar maestro John Etheridge (C 61-65) and VOCES8.
The real star was the theatre itself, that will be back in action with a production of Antigone in the last week of June.