Being a scholarship holder at Bradfield is an exceptional opportunity that offers you the very best football education. The individual is at the heart of all our decisions and talent is nurtured in a holistic way to provide a challenging and positive learning experience.
As a recipient of an award, you will demonstrate two factors that we feel are vital in contributing to a high achieving mentality; A love of Football and A love of learning. We are looking for good technical grounding and the desire to become problem solving scientists and artists of the game.
Football development here aims to be joyous. We ask pupils to show commitment and dedication at a level that they may have never experienced before with the aim of exposing them to a truly elite environment and mentality.

Luke Webb, Director of Football
You will be keen to participate in and contribute to the sporting life of the College and you will be committed to developing your sporting intelligence, your performance psychology and your human decency across all areas. In return, you will receive the very best advice and guidance from our dedicated and supportive team of football teachers.
EXPECTATIONS OF AWARD HOLDERS
Holding this award is both a privilege and a responsibility. The personal support you will receive, and the opportunities offered to you, are balanced by the role you will play as an ambassador for the Football Club, its activities and events, both within and outside of the College. As a result, you will be required to:
Maintain consistently high football standards through gaining an understanding of deep practice, having a self-motivation to work at your practice independently and by attending all football sessions available, both practical and theoretical.
Demonstrate leadership to fellow pupils, by participating in the mentor scheme of the football programme, where you will be mentored as a junior and then will become a mentor as a senior.
BENEFITS
As a recipient of a Football Scholarship, you will be offered a range of opportunities, which will enable you to continue to develop your talent, passion and potential:
Access to the Bradfield College Football Player Book
Attendance at regular talks by professional sportspeople
Expert coaching from our professional coaches
Guidance and support from our performance psychologist
Weekly sessions and a movement pattern development plan with our S&C coaches
Access to your own Hudl account to maximise feedback
Support in establishing your own peer-led teaching
A range of performance opportunities competing in the toughest fixture list on the circuit and in national competitions.
Biannual review with the Director of Football and Lead Football Coaches to discuss your progress, map out your plans for the period ahead and offer help to nurture the talent which won your Award in the first place.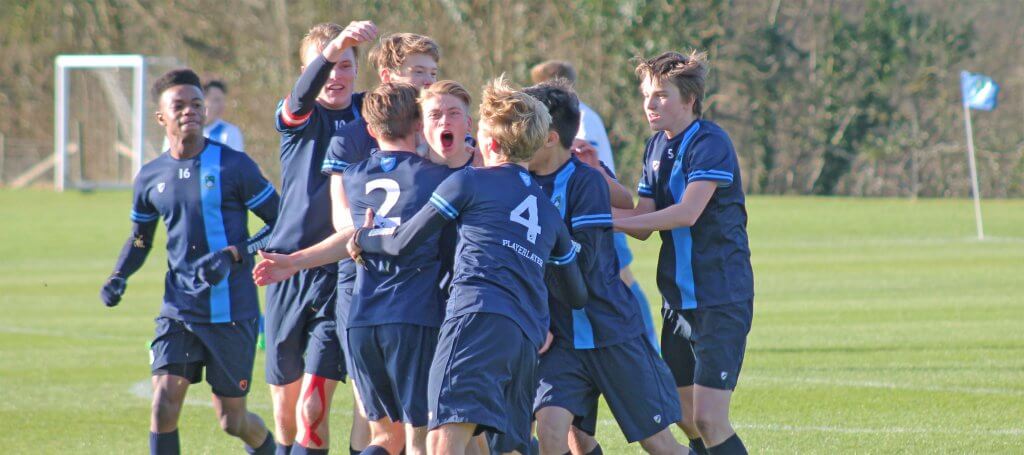 Application process
All pupils must go through our admissions process and must gain a place at the College in the March of Year 6 in order to be considered for a scholarship.
Read on for more information about applying for a football scholarship.
13+ candidates
For boys and girls who wish to have football as their main contributor to a scholarship at Year 9, either parents and/or the Director of sport at the school and then parents must make contact with our Director of Football Luke Webb.
Explanation of new process coming soon…
Luke, accompanied by former parents and pupils who participated in the Bradfield Football Programme delivers a talk annually at the Bradfield Prep Schools Football Tournament during the Michaelmas Term. All parents from all schools are welcome.
16+ candidates
Pupils can apply for a Sixth Form scholarship to gain a place on the Senior Elite Football Programme twice a year.
Our general scholarships are open to all and applications are open in October of Year 11. Our Academy Football Scholarship is open to any player who has recently been released from a professional football club academy and meets our academic criteria and takes place in the February of Year 11.
Applications for the Academy Scholarship take place in February (but are usually limited to only one place). If you are an academy player who would be interested in applying to our school (if you were released), even if you have not been released at the time, there is more available scholarships during the October/November process so although it can be difficult to think that far ahead, I would recommend you let us know your interest then.
For information on Sixth Form football scholarships please contact the Admissions Department (admissions@bradfieldcollege.org.uk) or Luke Webb (lwebb@bradfieldcollege.org.uk).
Applying for a Football Award
If you are considering applying for a Football Award, you are advised to contact the Director of Football and are encouraged to send a DVD or video link of yourself playing to lwebb@bradfieldcollege.org.uk.
All fee reductions are determined by means testing, in keeping with the ethos of the school, although priority is given to those who have won an award. Note that Football Awards do not guarantee a reduction of fees. For more information, see our Bursaries page.