The 1850 Club aims to enable everyone to be involved. If you reflect that Bradfield had a positive impact on your life, and you would like someone else to benefit, we encourage you to join the 1850 Club at whatever level you can. It's amazing how even the smaller donations, once applied collectively can make a real difference.
To join the 1850 Club there is a suggested donation of 1850 in some form, be that £18.50, £185 or £1850, monthly, quarterly or annually. This format is not however exclusive, so whatever amount and frequency works for you, works for us. Every donation is greatly appreciated.
If you want to make a Regular Gift, you can choose where that gift goes;
See the difference collective Regular Giving can make…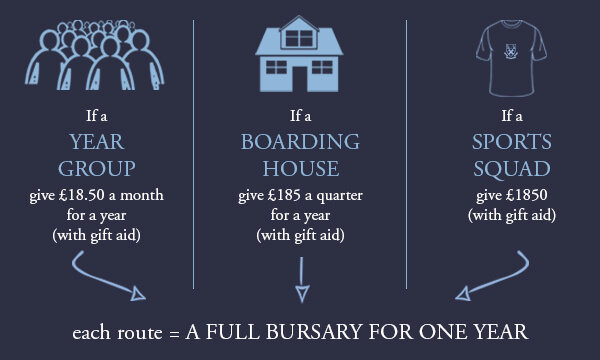 Powerful isn't it?
Would you like to be involved?
Make an online donation  – via the Charities Aid Foundation website
SUPPORT THE 1850 CLUB APPEAL FOR BRIGHT FUTURES