LEAVE THE LEGACY OF A BRIGHT FUTURE FOR BRADFIELD
Bradfield views the gift of a legacy as something very special indeed. and we, as Legators, are united in the belief that Bradfield has had a positive impact on our lives and would in turn like to support Bradfield and the next generation of Bradfieldians.

If you have a place for Bradfield in your heart and would like it to continue to succeed and produce pupils who make a positive contribution to society, please join me and leave a legacy to Bradfield.

Richard butler (G52-56), President of the 1850 Society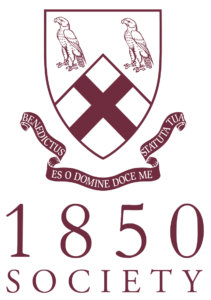 ENJOY YOUR LEGACY TO BRADFIELD
The 1850 Society allows those of us who have left a legacy to Bradfield in our Will to see the impact of giving during our lifetime. An active and engaging forum, the Society offers an annual gathering where we are given a 'behind the scenes' view of some aspect of College life. It is wonderful to see how the College manages its donations and have an insight into the good use that our gift will in turn be put to. We are also allowed to bring guests to the events, family or friends, so they too can appreciate Bradfield.
legacy destination
There are two principal destinations for legacy gifts, either in support of the transformative bursary campaign Bright Futures, or towards campus development, including initiatives such as the St Andrew's Project. You may however prefer the College to decide, in which case there is the option to leave an unrestricted gift.
How Legacy Donations reduce your Inheritance Tax liability
EXAMPLE WORDING
'I leave to The Bradfield Foundation of Bradfield College, Bradfield, Berkshire, RG7 6AU (Charity No, 900457), £ (cash amount), or % of my residuary estate or property (please specify) … On realisation of the bequest a receipt from the Bursar or other authorised officer shall be sufficient discharge for my Executors.'
JARGON BUSTER - WHAT TYPE OF LEGACY TO LEAVE
A gift may take form of a residuary, pecuniary or specific legacy, which may include a monetary gift, buildings, shares, land or other property. Your legal and tax advisors will be able to recommend the best way to formulate your request.
Residuary Legacy
The residue of your estate is the value remaining once all pecuniary legacies, debts, fees and other charges have been met. You might decide to leave the entirety or part of the residue to Bradfield College. The advantage of a residuary bequest is that its value is unaffected by inflation.
Pecuniary Legacy
A gift of a fixed sum of money. The value of the gift may reduce over the years because of inflation. You might want to consider index linking the sum so that the value of the bequest remains as you originally intended. You may like to consider setting aside a percentage of your estate rather than a fixed sum.
Specific Legacy
A legacy need not be in the form of money. You may wish, instead, to leave specific assets, such as property stocks and shares, works of art or other valuables. Please let the Development Office know any specific intentions attached to your gift as the College may otherwise sell such non-financial gifts and use the proceeds as necessary.
Reversionary Legacy
A gift that enables you to provide for your family or friends and to benefit the College. It involves leaving assets to a chosen beneficiary to benefit them during their lifetime, with the whole or a portion reverting to the College upon their death.
In Memoriam Gifts
An immediate gift that can set up a Fund in remembrance of a loved one. Many individuals have established In Memoriam funds to provide bursaries and prizes or have provided a bench or tree for the College campus. Please talk to Michelle or Katie for further information regarding In Memoriam giving.