Bradfield Hockey is an important component of the College's overall sporting programme. We are proud to field 28 teams across the Michaelmas and Lent terms; 12 girls' teams play in the Michaelmas Term and 16 boys' teams in the Lent term.
Selection for places in higher teams is intense and this healthy competition has led to a growing number of success stories in recent years. All A and B teams participate in the Independent Schools' Hockey League (ISHL).
Hockey at Bradfield is competitive but fun, and there is always a success story to follow.

Hockey parent 2018
The U15A boys and girls and the 1st XI boys and girls also play in the Independent Schools' National Cup, whilst the U14A, U16A and 1st XI teams compete in the England Hockey National Knockout Competition.
The Hockey club's vision is to create a fun, positive and rewarding environment, where players can be creative and dynamic, whilst making decisions based on the information they see and interpret.
Coaching
We are fortunate at Bradfield to house a brilliant team of coaches, many of whom have played international or National League hockey. All players at Bradfield benefit from the expert coaching the staff are able to provide.
The girls' and boys' 1st XI players follow an intense weekly programme. This consists of squad and individual strength and conditioning sessions in our fully equipped S&C studio, yoga lessons, and a full training week on the pitch with regular matches.
All goalkeepers receive weekly bespoke goalkeeper coaching sessions in small groups with our external coach. This allows them to develop their individual keeping skills as well as develop their confidence in this specialised position.
Prep school masterclasses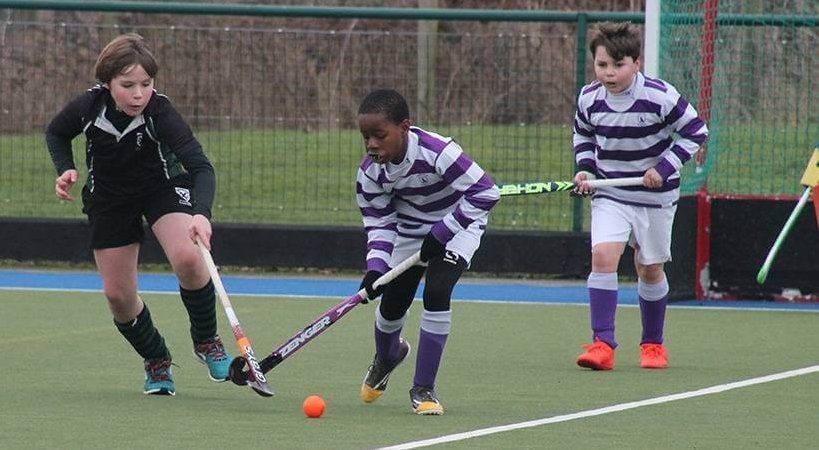 Prep school tournaments and masterclasses are something both the staff and students enjoy hosting and coaching. We run an U10 girls' and U10 boys' tournament, where players from prep schools undertake a morning of coaching from the Bradfield staff and senior players, before participating in a tournament in the afternoon.
Coaches and players from Bradfield also visit local prep schools to coach, umpire and share initiatives with younger players.
Participation
All pupils in Year 9 have the opportunity to experience hockey in their first year at the College before they are selected for training squads and teams to represent the school. All 28 teams receive at least two and a half hours of weekly coaching, as well as a weekend fixture; A and B teams in all age groups receive a further hour of coaching per week.
The 12 girls' teams play on average 134 games over the course of the Michaelmas Term, whilst the 16 boys' teams play an average of 176 matches through the Lent Term. Many of these matches are played as part of the Independent Schools Hockey League, some are friendly blocks and others are part of the National Cup and England Hockey competitions. Nearly 200 girls and 280 boys are involved in these fixtures across the year. Competition for places in teams is tough, but this only makes the players more eager to train hard and improve.
Girls' Hockey at Bradfield has grown in recent years and in 2018/2019 we were delighted to be able to run a Senior 5th XI for the first time. The establishment of this team came about due to the large number of girls wanting to continue playing hockey and is an indication of the positive experiences they are having of the game in the lower age groups.
House hockey
House competitions are one of the most anticipated events in the calendar. The girls' event is played over two separate competitions; the Sixes tournament on Goose weekend in September and then the 11-a-side competition in October.
The boys play in either a House Colts or House Firsts tournament in March, both of which are a seven team round robin format. All matches are really competitive, but friendly, with a great amount of house spirit on show!
Performance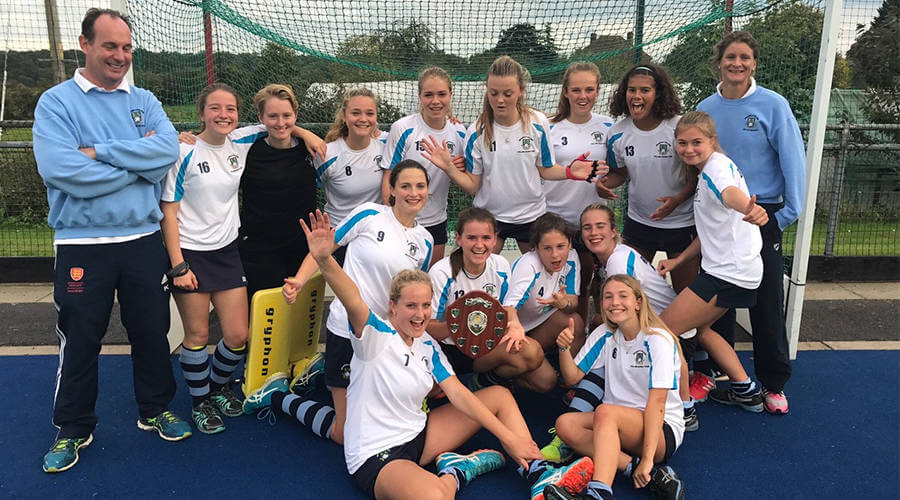 Bradfield has a strong reputation on the County and Regional circuits, with the teams that compete in the tournaments, often featuring in the finals.
The 1st XI regularly reach the regional finals and the junior sides have followed suit in recent years, with the U14 girls reaching the regional heats (2018/19) and the U15 girls making it all the way through to the Semi-Finals of the National Cup (2018/19).
Both boys and girls teams have the opportunity to tour internationally, as well as participate in pre-season weekends before their preceding term of hockey. In the last five years, the girls have toured to Germany, Belgium, Holland and the USA and are due to go to Singapore and Malaysia in October 2019. The boys have visited Portugal, Spain and Singapore and Malaysia (2015 and 2018).
| 2017 - 2019 Team honours (Girls) | 2017 - 2019 Team honours (Boys) |
| --- | --- |
| 1st XI County Runners-Up and Regional finalists (2018/19) | U14 Boys County Runners Up (2017/18) |
| U15 National Cup Semi-Finalists (2018/19) | Six out of 16 teams ISHL league champions (2017/18) |
| U14 County Runners-Up (2018/19) | U16 Boys County Runners Up (2016/17) |
| 1st XI County Champions and Regional Finalists (2017/18) | |
| Five out of 12 teams crowned ISHL league champions (2017/18) | |
2017 - 2019 Individual honours
Nine players performing at England Hockey Performance Centres (2018/19)
Eight players at England Hockey Academy Centres (2018/19)
Archie Sweeting invited to U18 Scotland trials and selected for England Hockey School Games (2018/19)
Maya Salmon and Olivia Lee-Smith selected for England Hockey National Age Group Squads (2016/17)
International Success
Facilities
We have outstanding hockey facilities at Bradfield in the way of two full-size, fully floodlit wet dressed all weather pitches and a double sized sports hall which houses our indoor hockey provision.
All facilities are maintained to a high standard. In addition to this, our players have access to our superb fitness suite and strength and conditioning facility to support their physical development, as well as our 25 metre pool where they can undertake recovery sessions.