Alongside the many performance opportunities available to pupils studying Drama as an academic subject, there are many opportunities for pupils to become involved in Drama at Bradfield.
In Year 9, all pupils experience Drama with a weekly lesson and many choose to continue to study the subject at GCSE and at A Level.
What can beat the formative thrill of performing a school play in your own Greek-style amphitheatre?

Tatler Schools Guide 2017
Pupils are also able to study for their LAMDA qualification whilst at the College and many complete the qualification to the Medal stages.
For more information on our drama and creative arts offering, see our co-curricular handbook:
The main productions
The Michaelmas Play
A whole school production in the first term that is open to all pupils through audition. It can be a musical or a straight play. In the last few years, it has been Little Shop of Horrors (2015), We Will Rock You (2016), Noughts and Crosses (2017), Antigone (2018) and Yerma (2019).
The Lent Play
A staff directed production in the Lent Term that is only open to Faulkner's pupils.
Pupils audition at the end of the Michaelmas Term. Like the Michaelmas Play, it is performed in the Old Gym. Again pupils are able to participate as performers or in backstage roles. In the last few years, it has been The Wind In The Willows (2016), Mythamporphosis (2017), The Burston School Strike (2018), The Demon Headmaster (2019) and DNA (2020).
The Summer Play
The Summer Play works on a three-year cycle with Bradfield's famous Greek play happening every three years. Under the direction of the Head of Classics, Polly Caffrey, the last Greek Play was Alcestis (2019). This year it will most likely be a musical or a play by Shakespeare.
The Summer Play is open to pupils in all years, but those in Fifth Form and Upper Sixth must discuss their participation before audition to ensure the rehearsal workload does not impact negatively on their public examinations.
Summer plays over the last few years have included A Midsummer Night's Dream and Godspell. The Summer play provides pupils with the opportunity to perform in the Greek Theatre.
OTHER PRODUCTIONS OPPORTUNITIES
House Plays
There is also a healthy culture of House Plays at Bradfield in which members of each House stage a play in one of the College's performance pieces. These productions are pupil driven and directed by pupils, but supported by the Drama Department.
The Pupil Directors Scheme
For those who want to direct their own productions, pupils have an opportunity to do so through the PDS. Interested pupils will pitch their idea to the Drama Department in the Michaelmas Term and successful pupils will be assigned a mentor who will help them bringthe play to fruition.
Successful pupils will be responsible for casting, running rehearsals, the technical design and marketing of their production in one of the School's performance spaces.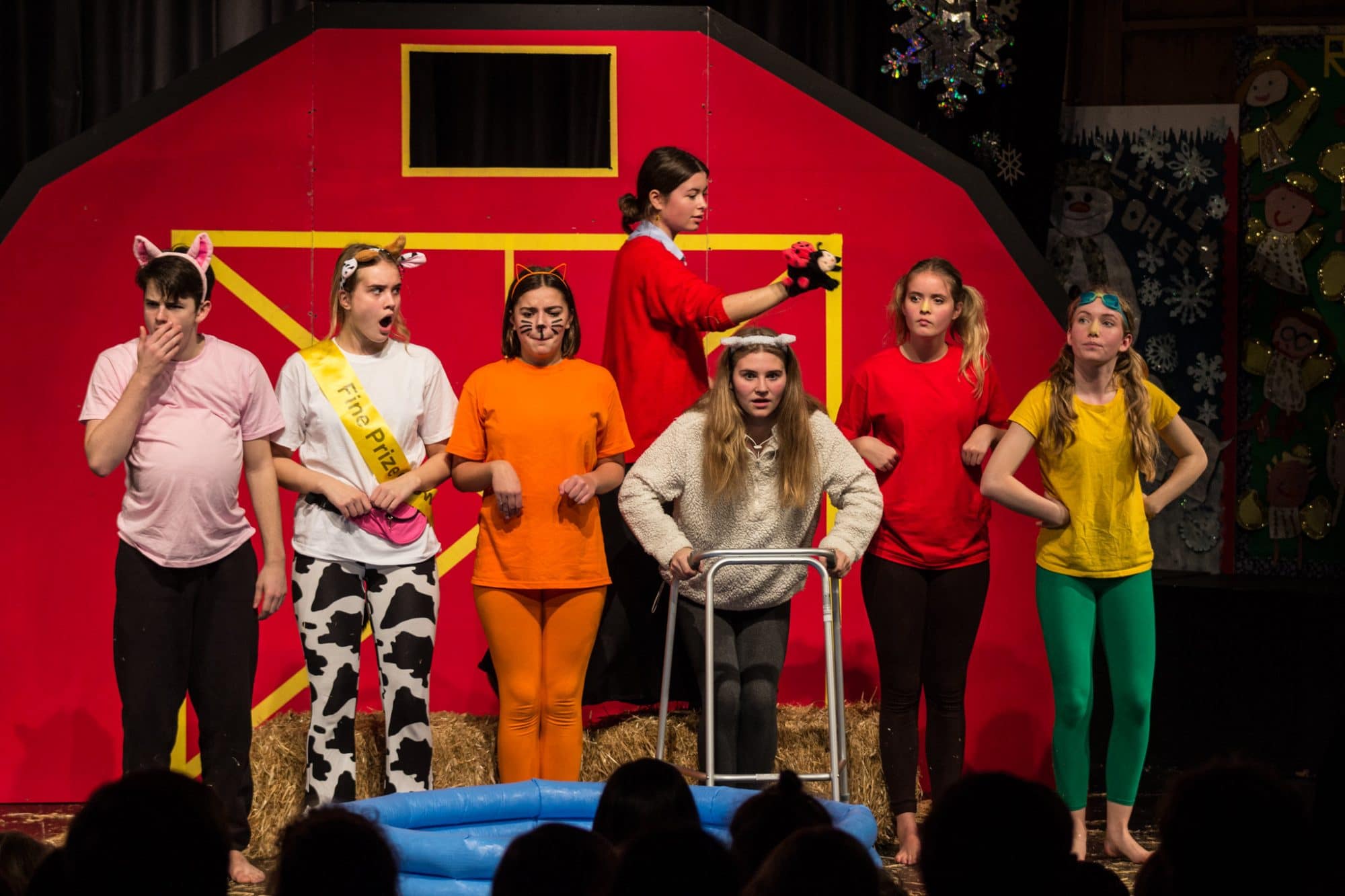 DRAMA CLUBS
Faulkner's Drama Club
A weekly drama club for Faulkner's pupils to support their introduction to Drama at Bradfield.
Technical Theatre Club
Technical Theatre Club is not a weekly club like the Faulkner's Drama Club, but is based around the annual cycle of productions and performances within the College making it a dynamic and exciting aspect of Bradfield life to be involved in.
Pupils interested in lighting, sound or set are encouraged to approach the Drama Department and they will be most welcome to work on whatever productions fit with their timetable and other commitments.
Visiting professionals
Bradfield hosts visiting theatre companies and it is common practice to invite industry professionals into the classroom to work alongside our pupils.
Industry professionals who have delivered workshops include Claudia Harrison (Murphy's Law), Matt Barber (Downton Abbey), Kirk Baltz (Reservoir Dogs), Stuart Laing (EastEnders) and Sarah Miles (Ryan's Daughter).
Drama facilities
The College boasts excellent drama facilities, which include an intimate Black Box studio, the Old Gym that can transform into an impressive 400 seat auditorium and, of course, 'Greeker', the College's very own 1,000 seater outdoor Greek Theatre.
'Greeker' – The Greek Theatre
Bradfield is renowned for its Greek plays and Greek Theatre, affectionately known as 'Greeker'. The first Greek play, Alcestis, was performed in the original language in 1881. This tradition has continued to this day with a Greek play performed every three years.